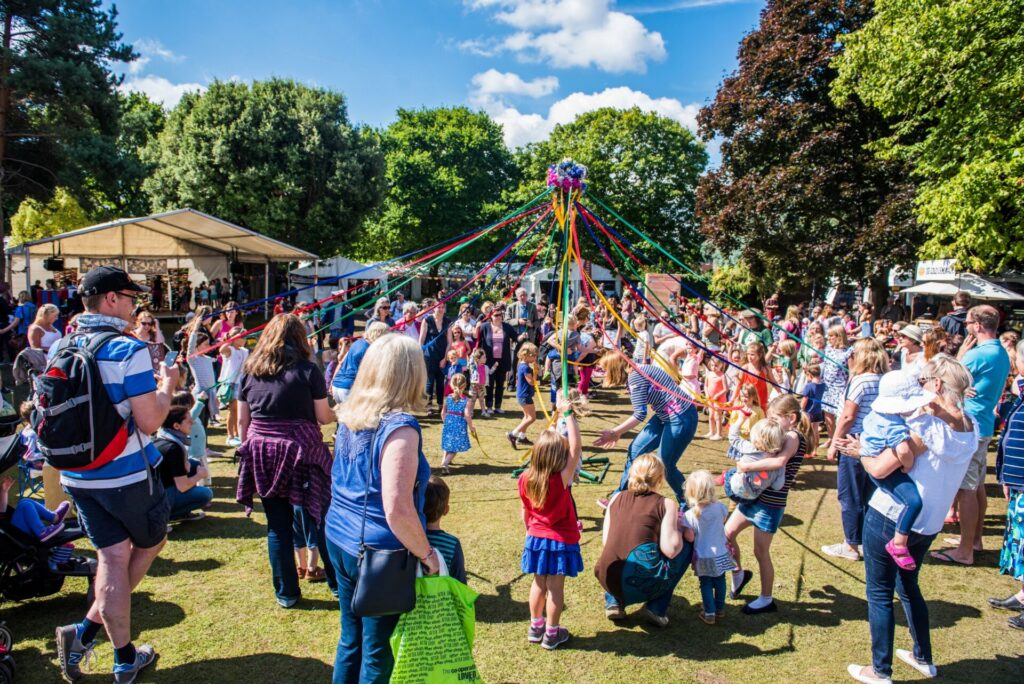 Sidmouth Folk Festival
29 July – 5 August 2022
Hurry down and join the live, in-person 68th Sidmouth Folk Festival, now well and truly underway. A weekend of brilliant music, dance and song is in store at the best summer seaside festival. You can dip in and out of events with a range of ticket options which make the most sense for your time and budget!
Tonight at The Ham, an old hand of the folk scene, Jez Lowe, with his outstanding songwriting craft, with support from young trad. upstarts Granny's Attic. And there's a great night of partying and dancing at The Bulverton with the barnstorming Sheelanagig.
Saturday is filled with events to suit all tastes. It's got to be perfect…with the amazing Scottish singer Eddi Reader at The Ham in the evening. Or how about heading down to Sidmouth for a great evening show at the Manor Pavilion at 8pm? Field and Dyke is presented by Pedler// Russell, a highly original collaboration with BBC Radio 2 Folk Award winner Greg Russell and historian and musician Danny Pedler taking a unique approach to presenting the social landscape around us. And, up at The Bulverton, expect a floor filled with whirling, twirling Euro-dance with Blowzabella at the helm.
Sunday features a host of unique events which make a visit into town well-worth the effort! Canter along to Port Royal at 1.30pm for a bit of horseplay with the Sidmouth Horse Trials: an all-comers event for Hobby Horses, Morris animals and other Beasts of Disguise! A splendid Aardman Award trophy for The Best Beast will be awarded by Aardman co-founder and Sidmouth regular Peter Lord.            
Young talent abounds at The Ham lunchtime concert (12pm) with Scottish fiddle maestro Ryan Young with amazing guitarist David Foley and English trad. box playing/singing star Cohen Braithwaite-Kilcoyne. The afternoon offers a smorgasbord of delights from Bulgarian vocalist Eugenia Georgieva at the Cellar Full of Folkadelia; a Blowzabella concert, with support from fine fiddler player Ben Paley at The Ham and an always-brilliant evening Ham show with local heroes and Festival Patrons, Show Of Hands.
And that's just scratching the surface of what promises to be a truly action-packed weekend programme, filled with folk dance, ceilidhs, amazing Children's Festival events at Peacock Lawns and beyond, including both a Family Evening ceilidh and story show, storytelling, display dance, special shows, intimate concerts and so much more.
The week ahead is jam-packed with some brilliant shows ahead with the likes of Kate Rusby, Peatbog Faeries, The Spooky Men's Chorale, Grace Petrie, N'famady Kouyaté, Yves Lambert Trio and a tribute to the much-missed Norma Waterson, led by husband and daughter Martin & Eliza Carthy and friends. And there's so much more
All your queries about the Festival answered at www.sidmouthfolkfestival.co.uk or visit
Sidmouth TIC
Ham Lane
Sidmouth, EX10 8XR
Tel: 01395 516441
Email: tic@sidmouth.gov.uk