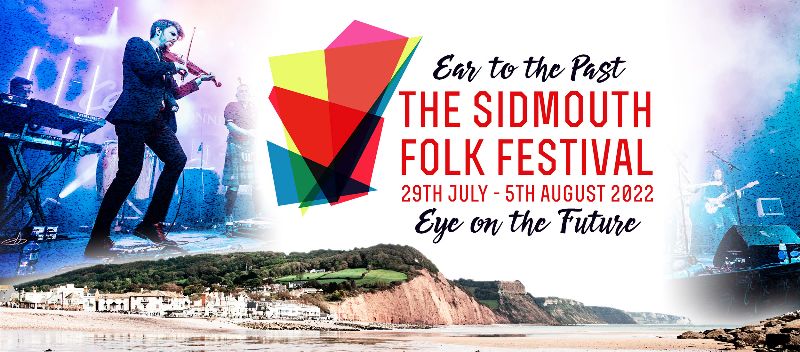 A week-long seaside celebration of music, dance and song. Since 1955.
Sidmouth Folk Festival 29th July – 5th August 2022.
Confirmed so far are Boss Morris, Campden Morris Dancers, First Class Stamp, Fool's Gambit Morris, Lancashire Wallopers, Leominster Morris, Mortimer's Morris, Newcastle Kingsmen, Rumworth Morris, Seven Champions Molly Dancers, Sheffield Steel Rapper, and Sidmouth Mummers, with more top-quality teams still to be added. They can be seen throughout the week in a range of Dance Spectaculars in Connaught Gardens and the Blackmore Gardens Marquee, and they will also be performing around town and on the Esplanade.
There will be a range of dance workshops every morning of the festival, including Cotswold, Border, Appalachian, North West, Rapper and Clog. All will be welcome at the workshops, which as usual will cater for a wide range of experience and ability.
In addition, there will be a welcome return for the John Gasson Memorial Jig Competition to look forward to on Sunday, bringing the usual competitive spirit to the Festival with high standard and energetic jigs.
Morris Wednesday will be hosted by First Class Stamp
Full programme can be found here, Full Programme for The Sidmouth Folk Festival (mailchi.mp) and available to download here, Sidmouth-Programme-2022-FINAL.pdf (sidmouthfolkfestival.co.uk)
For information and all the latest news (including performing, craft and catering stalls) visit the official website or contact us by e-mail
For Folk Festival tickets and where to stay information, contact:
Address
The Sidmouth Information Centre,
Ham Lane,
Sidmouth,
EX10 8XR
Next year's dates for your diary: The Sidmouth Folk Festival 4th – 11th August 2023