Sidmouth Town Council has confirmed further details ahead of the Annual Regatta Weekend and Air Show on Friday 25 August, including the provision of additional car parking and a reminder to water users of an Air Display Water Safety Zone in force during the show. The Airshow commences at 5.00pm and concludes with the world famous Royal Air Force Aerobatic Team, The Red Arrows.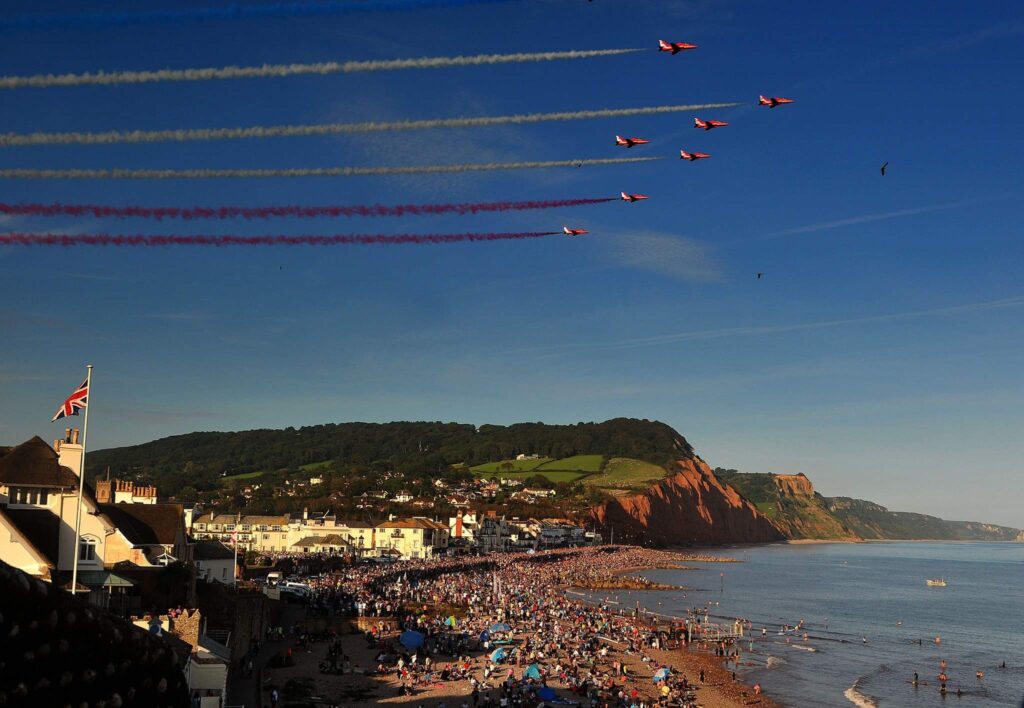 As well as all the usual District Council Car parks at the Ham, Roxborough, Mill Street and Manor Road, further additional car parking will be made available at various locations including Sidmouth Rugby & Cricket Clubs and Redwood Road and will be clearly signed with marshalls on hand. A number of road closures and parking restrictions have also been confirmed to help maintain traffic flow and give spectator safety.
Organisers are requesting that spectators and in particular, boat, jet ski and kayak/paddleboard owners take note of a temporary Air Display Water Safety Zone (ADWSZ) which will be in force on the water offshore of Sidmouth Beach. No vessels will be permitted in this area between 4.30pm and the end of the display. The ADWSZ will be marked by coloured buoys and patrolled by Sidmouth Lifeboat and associated craft.
The 2023 Sidmouth Airshow is promising to be a fantastic start to Sidmouth Regatta weekend and is shaping up to be a real highlight of the year. The flying program (subject to change and weather) runs as follows:
5.00pm – Team Raven
5.25pm – Battle of Britain Memorial Flight Spitfire & Hurricane
5.50pm – Stampe Display Team
6.10pm – The Titans
6.30pm – Royal Air Force Aerobatic Display Team, The Red Arrows
Sidmouth's very own Giants will also be around along the seafront and there will be displays by the 'Red Arrows on Bikes' at 4pm (Clifton end) and 4.30pm (Port Royal end). On top of all this, a Red Arrows Merchandise pod and Food Village will be in place at the Ham with local food stalls.
The Regatta programme for Saturday 26 August continues with Sailing and Surf Life Saving Races, a Treasure Hunt and Street Theatre. The usual Grand Fireworks Display will take place at approximately 9.15pm over the Seafront and really promises to be a spectacle. Sunday 27 August then continues with further Sailing and Gig Racing and a Beach Clean Treasure Hunt.
The Regatta Weekend and Airshow is enjoyed by thousands of residents and visitors and only takes place with funding from the Town Council and voluntary donations from the public. It also uses countless volunteers all helping to organise the weekend. To enable the event to continue, Volunteer Collectors are still needed to assist in gathering donations from the public through collection buckets and contactless payment. If you are able to offer your help, please register by contacting Sidmouth Town Council at towncouncil@sidmouth.gov.uk
You can also support the event by going to www.sidmouth.gov.uk and clicking on the "Sidmouth Regatta Airshow Donations" Button. Participation of flying teams for the Regatta Airshow is based upon aircraft availability and weather conditions. Keep an eye out for further details at www.visitsidmouth.co.uk , www.sidmouth.gov.uk, and social media for up to the minute details, timings and other announcements on the event.