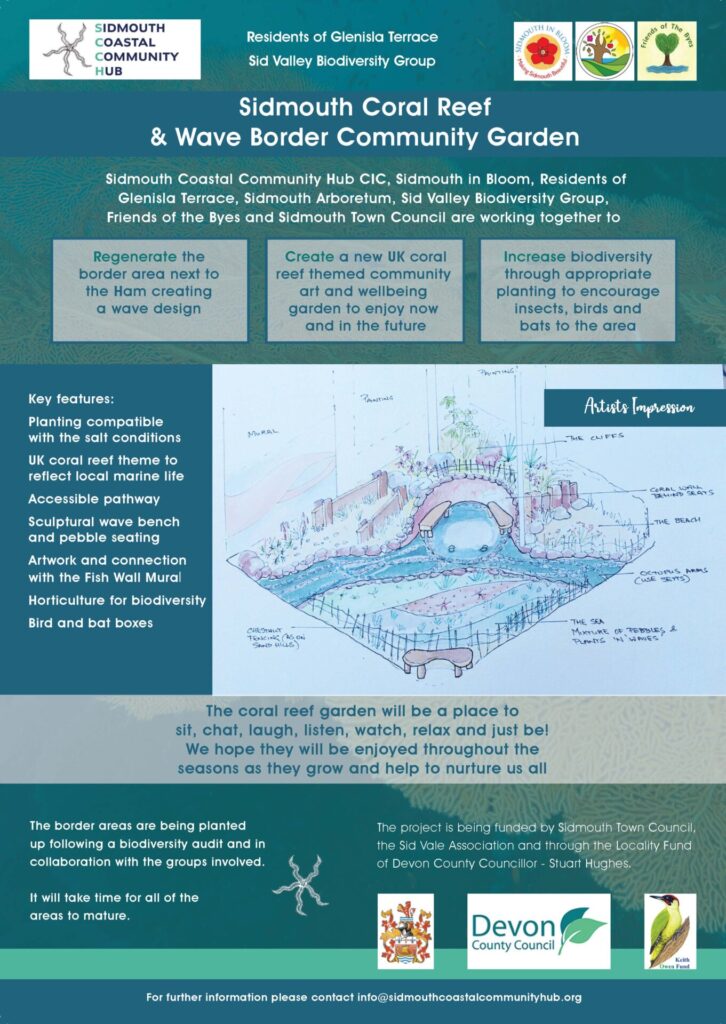 Following Sidmouth Town Council's approval last year – the collaborative proposal from Sidmouth In Bloom, Sidmouth Coastal Community Hub and a group of Glenisla Terrace residents, Sidmouth Arboretum, Sid Valley Biodiversity Group and Friends of the Byes to reimagine an unloved space and turn it into a sea themed Coral Reef Community Garden and create a Wave themed border alongside the Ham, is progressing with significant work now underway.
Funding the project
Sidmouth Coastal Community Hub CIC successfully applied for funding to Sidmouth Town Council, the Sid Vale Association and to the Locality Fund of Devon County Councillor Stuart Hughes.
Local resident Pete Scott said; "We are well underway with clearing the border areas and new Viburnum hedges are being delivered for planting next week which is the first element of the wave planting scheme."
Lynette Talbot, Sidmouth In Bloom said:
"This is a really good example of a community project with Glenisla Terrace residents developing and sharing ideas and taking a lead on the area opposite the play park. Sidmouth Arboretum have pledged new trees chosen because they will enhance the biodiversity of the area. "
Louise Cole, Director of Sidmouth Coastal Community Hub.
As part of the improvements to the area we have also started to repaint the Fish Wall Mural, children from Sidmouth C of E Primary school have worked on designs for the fish. We have had to respond to the current covid restrictions of course, so are finding ways to ensure the children's creativity is realised, we think now more than ever, contributing to and enjoying art in public spaces is important for us all. People often tell us that they and their children or grandchildren love the wall. It seems to bring a smile to everyone."
Coco Hodgkinson added "We are also lucky to be working with sculptor Ben Barrel on the Coral Reef garden space and have commissioned a wave bench and pebble seating. This will be a lovely focal point for the garden where people can sit and relax, hopefully it will help people to feel good, especially as we reconnect with each other after what has been such a tough time."
If anyone would like to get involved and volunteer on the project and help with weeding, planting and heritage research please email info@sidmouthcoastalcommunityhub.org
Contact details
Louise Cole
http://sidmouthcoastalcommunityhub.org/
Sidmouth Coastal Community Hub CIC
Mobile: 07881 585395
https://www.facebook.com/sidseafest/
Janet Strap – Glenisla Terrace Resident
janet.strapp@outlook.com