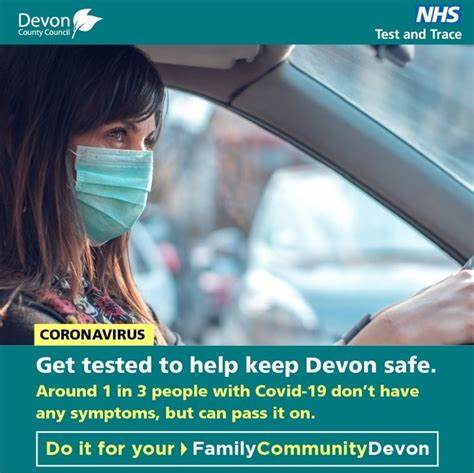 Every adult in Devon is now being encouraged to take a quick COVID-19 test twice a week to help stop the virus spreading.
These types of tests, known as rapid lateral flow device (LFD) tests, are for people who don't show any symptoms of having coronavirus. One in three people with coronavirus do not experience any symptoms and may be spreading the virus unwittingly. Rapid testing detects cases quickly, meaning positive cases can isolate immediately. They are easy, quick and convenient, and the results are usually available to you within the hour. 
There are lots of ways that you can get one of these tests in Devon, including:
Businesses can order them too, for their employees, and carers, personal assistants and frontline social care staff can order and collect testing kits at the same time as their PPE supplies.
If the test is negative, you can carry on with your day while still following the public health guidance about social distancing and wearing face coverings.
If the test is positive, you need to self-isolate immediately and arrange a confirmatory PCR test via the NHS. Remember, these rapid lateral flow tests are to be taken regularly if you do not have any symptoms of coronavirus. If you do develop and symptoms, you should immediately self-isolate and arrange a PCR test via the NHS.