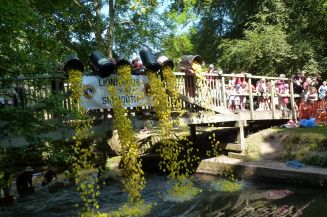 This year's 'Duck Derby' consists of one great big Duck Race on the River Sid, plus additional attractions for children, including Duck & Spoon races and tasty ice creams.
On the River Sid in The Byes from Lawn Vista cycle bridge downstream to the big weir near Salcombe Road
The event starts at 2.15 pm with children's Duck & Spoon races adjacent to the Lawn Vista Cycle Bridge in The Byes. These races are primarily for young children, in various age ranges up to eleven years old and involve running over a short course, without the little yellow duck falling off their spoon. Subsequently, parents/grandparents are usually invited to have a go to! Tasty ice creams will also be on sale during the afternoon!
The main Ducks Race will start at 3.00 pm from the Lawn Vista Cycle Bridge, with hundreds of little yellow ducks launched into the River Sid and racing downstream to the finishing line at the base of the big weir just upstream of the Salcombe Road bridge. The 'owners' of the first 19 ducks will each receive a cash prize from prizemoney totalling over £1,000. The 1st prize is £400, 2nd prize is £100, 3rd prize is £75, followed by six £40 and ten £20 prizes.
Duck Tickets £1 each from Lions stalls and local shops from mid-August
The main Duck Race proceeds are in aid of Devon Air Ambulance Trust and Sidmouth Lions Club's charity account