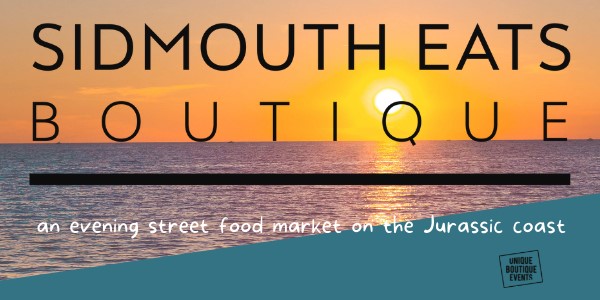 Eats Boutique pop up street food markets continue into 2022. This year Sidmouth is changing to the SECOND Friday of the month.
Enjoy world cuisine made for you by local people, often using local ingredients. Our market directly supports up to 10 small businesses and a number more that supply us. By coming along to an event and making a purchase you are supporting all of these livelihoods. What's more, Sidmouth Eats Boutique is free to enter because we feel that everyone should be invited to the finest table in town under the big Devon sky.
Each market event's menu is published on our social media pages, or you can sign up for our (brief) emails on our website for the forthcoming menu direct to your inbox.
Sidmouth Eats Boutique will be on the lawn and under the trees at Kennaway House, just a stone's throw from the beach. Find us there from 4pm until sunset on 13 May, 10 June, 8 July, 12 August and 9 September.
Disabled access (ramps)
SIDMOUTH EATS BOUTIQUE – Unique Boutique Events
Sidmouth Eats Boutique | Facebook
call 07970 857696