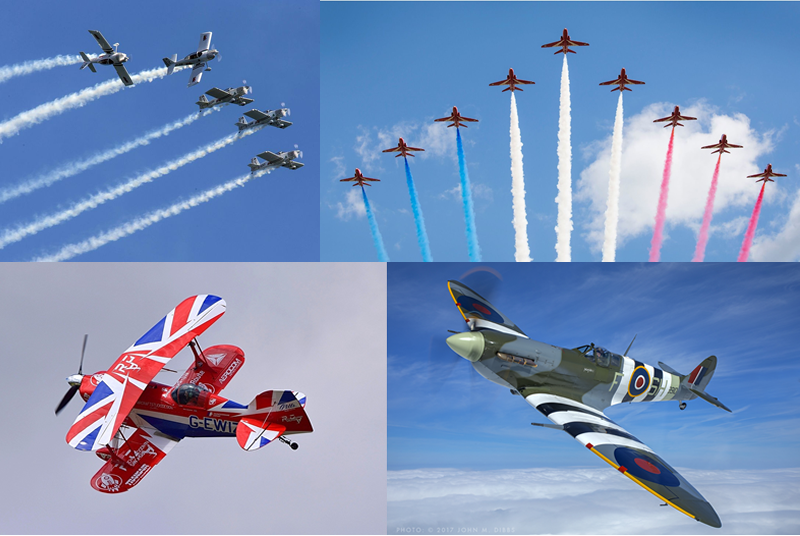 With the 2022 Airshow line-up now finalised, the Council can confirm that the show will commence at approximately 5.15pm with a first time appearance at Sidmouth by Team Raven. The team consists of a six plane formation of the ultra-manoeuvrable Van's RV-8 aerobatic mono-wing aircraft flying in formation and smaller groups. The aim of Team Raven's display is to 'present manoeuvres to the crowd at all times, with no gaps'.

A historic theme will follow with the RAF Battle of Britain Memorial Flight RAF Spitfires taking to the skies over the sea. The now nearly 80 year old aircraft will perform as a duo before one displays separately bringing the much loved sound of a Rolls Royce Merlin Engine to the skies over the town.

Following this will be Rich Goodwin who performs one of the most amazing displays of high energy, high G-force aerobatic manoeuvres ever witnessed, in his colourful Pitts Biplane.

Creating the usual finale to the Sidmouth Airshow for 2022 will be the RAF Aerobatic Team, the Red Arrows who will once again delight crowds with their perfectly synchronised flying and manoeuvrers. All in all, Sidmouth Airshow 2022 is shaping up to be highlight of the year and a fitting start to the Regatta Weekend.
The event will include all the usual extra car parking facilities and traffic management including the closure of the Esplanade road for the public to safely enjoy the event from. Organisers will once again be appealing for donations and most vitally, collectors, to make sure that this is not a one-off return and that the event continues in future years.