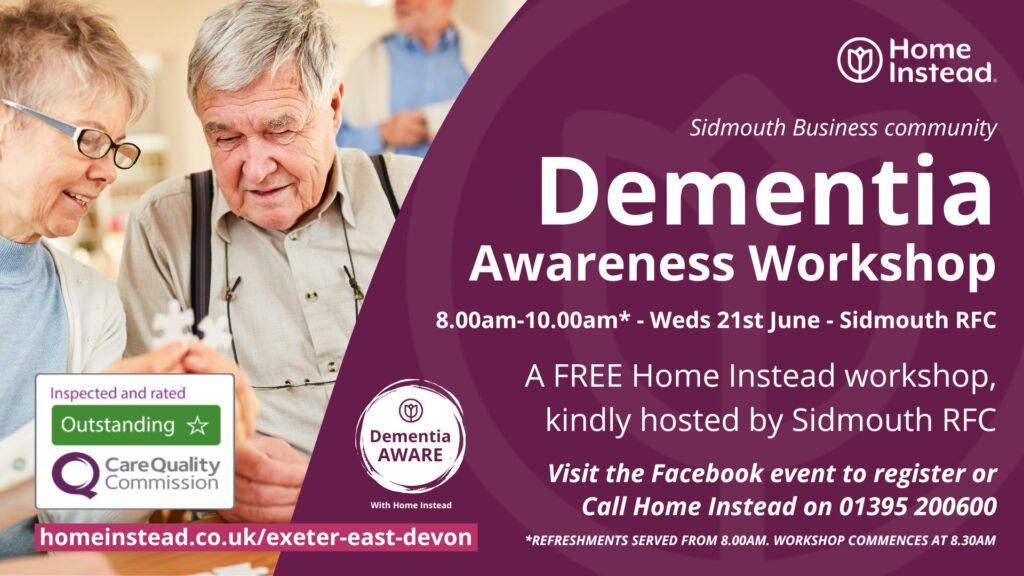 East Devon has one of the highest rates of Dementia diagnosis in the UK.
At Home Instead, we know how just a little understanding can make a really big difference to the experiences of those living with Dementia when out and about in our community, and when accessing business services.
Led by our Owner/MD Mark McGlade, the FREE Sidmouth Business community 'Dementia Awareness Workshop' will take place on Wednesday 21st June from 8.00am-10.00am* and is kindly hosted by our friends at Sidmouth RFC.
*Refreshments will be served from 8.00am. The workshop will commence at 8.30am.
As a business participant, you will receive a FREE 'Dementia Aware' sticker to display, signalling to the community that yours is a Dementia friendly organisation.
Please do sign up and share and let's make Sidmouth Dementia aware, together.
Register as Interested/Going on the event, FREE Sidmouth Business community 'Dementia Awareness Workshop' with Home Instead | Facebook to receive event updates or confirm your attendance via email to enquiries.eastdevon@homeinstead.co.uk
Call Home Instead on 01395 200600 for further information on this event, our 'officially outstanding in all areas' care and companionship services, or Care Professional recruitment opportunities.