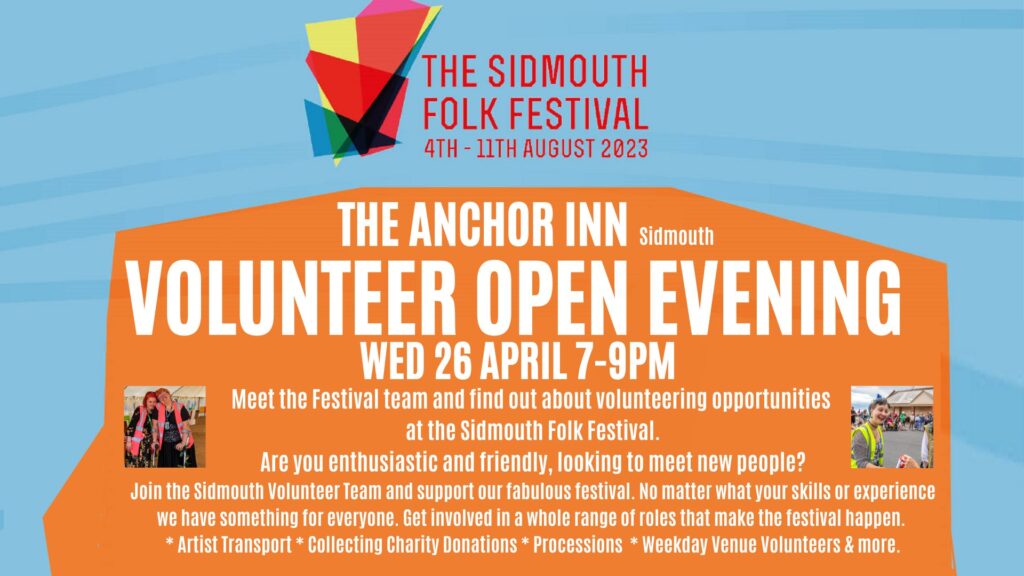 Meet some of the Sidmouth Folk Festival team and find out about
volunteering opportunities at the Festival (4-11th August).
Are you enthusiastic and friendly, looking to meet new people?
Join the Sidmouth Volunteer Team and support our fabulous festival.
No matter what your skills or experience we have something for everyone, you can get involved in a whole range of roles that make the festival happen.
* Artist Transport * Collecting Charity Donations * Processions *
Weekday Venue Volunteers * and much more.
In return for your time you will get free access to all the festival events including one free Ham Evening Concert (subject to availability), for the Pre-Festivals and other Ham evening concerts you can get a discount), discounts at all the festival caterers, discounted week child season tickets, discounted festival bus ticket and free festival camping. (Discounts and choice of Ham evening tickets are redeemable at the festival, not in advance.)
Applications are open online, or just come along and find out more the 26th April.