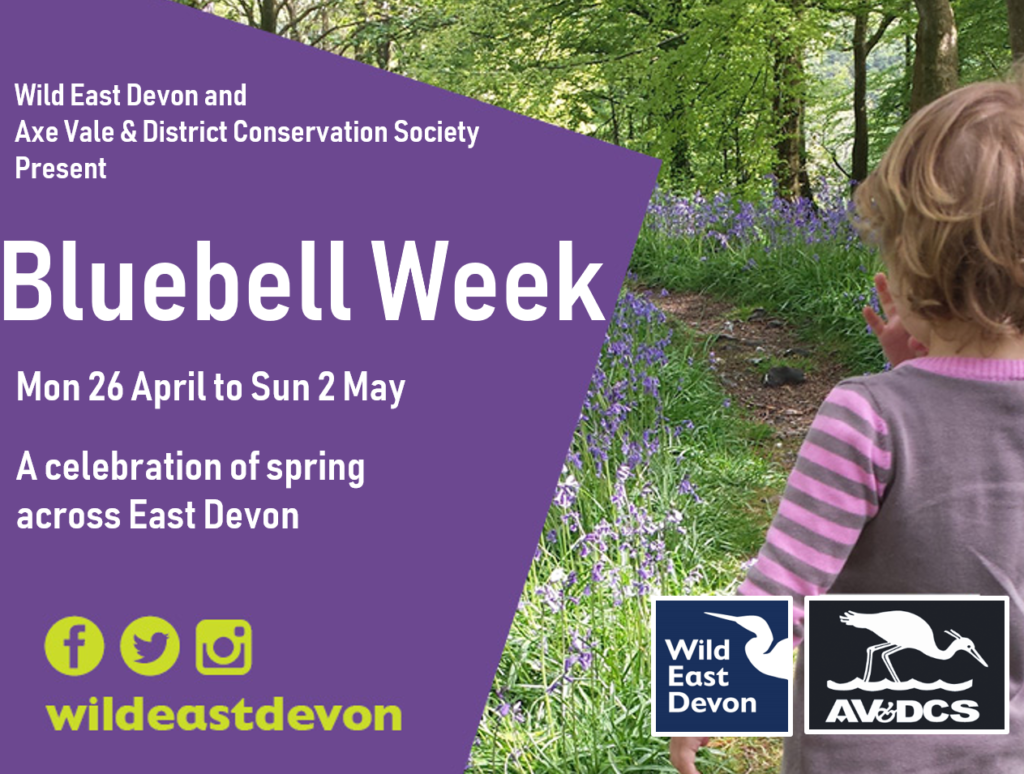 Our annual Bluebell Day has to be done differently this year so we're launching a district-wide week of activities, events, talks, videos and conversations all focussed on celebrating the wonderful bluebell and discovering first signs of spring in our local area.
We'll be putting on guided tours of our best spring wildlife-filled nature reserves as well as some family outdoor fun sessions to encourage the whole family to get outdoors and creative with our rangers.
Due to ongoing covid restrictions you might not be able to visit our reserves, so we're making sure that you can follow Bluebell Week safely from your own home with a series of online videos and competitions from our rangers that means you can fully experience Bluebell Week wherever you are.
Here's all the activities happening as part of Bluebell Week 2021:
Guided Walks
Join one of our six 2-hour Guided Walks across Holyford Woods near Seaton, Knapp Copse near Honiton and Fire Beacon Hill near Sidmouth. Walks focus on the management of our reserves the wildlife, and the avifauna. Book your family's place by clicking a link on the right-hand side
Family Activity Sessions
Join the Wild East Devon Education Rangers for a fun-packed hour of natural spring crafts at Seaton Wetlands. We'll be exploring, discovering wildlife and getting creative in the spectacular setting of our flagship nature reserve.
Volunteer Day
Ranger Jon will be leading a volunteering day on Thursday 29 April at Holyford Woods, improving access to the woodlands and connecting our volunteers to the early spring nature.
Competition
We will be launching a spring photograph competition in partnership with EDDC. Prizes will be given to the winners with a selection of photos used for a gallery during the week connecting to every family across the district, encouraging them to explore their local wildflower spaces and take some great photos!
Videos
We'll be posting a series of face-to-camera videos from the Wild East Devon Team explaining about our reserves, bluebells and beyond. Make sure you're following @wildeastdevon on Facebook, Instagram and Twitter as we give all of our followers across East Devon and the world springtime content to enjoy and learn from.
AV&DCS Takeover
On Wednesday 28 we're being taken over by our partners at the Axe Vale & District Conservation Society! They'll be leading a Guided Walk at Holyford Woods, and will be taking over our social media platforms to give us an insight into their organisation and to promote their work with us at Holyford Woods and across the Axe Vale.
For more information go to Bluebell Week – East Devon or use the contact details below to contact rangers
Opening hours: Monday to Friday from 8.30am to 5pm
Phone: 01395 517557
Email: wild@eastdevon.gov.uk
Post:
Wild East Devon
East Devon District Council
Blackdown House, Border Road
Heathpark Industrial Estate
Honiton
EX14 1EJ