Sidmouth Sea Fest: A Celebration of Community and Coastal Conservation
Welcome to Sidmouth Sea Fest, an annual community event dedicated to promoting environmental awareness and celebrating the beauty of East Devon's marine and coastal environment. With a focus on sustainability and community engagement, Sidmouth Sea Fest brings people together to foster a deeper connection with the sea and inspire positive actions for a better future whilst having fun!

Commitment to Sustainability:
Sidmouth Sea Fest (produced by Sidmouth Coastal Community Hub CIC) are committed to reducing their ecological footprint and promoting sustainable practices. Some of their key initiatives include:
Pioneering a single-use plastic-free festival since 2018, ensuring that local traders use recyclable materials and packaging.
Emphasizing reusable cups at the festival's bar and incorporating art installations and outreach projects that utilize found or recyclable materials.
Striving to make all festival activities low carbon or carbon-neutral, ensuring they leave minimal environmental impact.
Encouraging food traders to prioritize short supply chains, sustainable fish stocks, and vegetarian options to promote responsible and ethical dining choices.
Engaging Environmental Themes and Collaborations:
Each year, Sidmouth Sea Fest focuses on an environmental theme, encouraging contributors and attendees to align their activities with that theme. Some highlights include:
Integrated beach cleanups in collaboration with Sidmouth Plastic Warriors to keep coastlines clean and raise awareness about plastic pollution.
Welcoming renowned organizations like The Marine Conservation Society, Devon Wildlife Trust, Greenpeace, and Clean Jurassic Coast as stallholders, providing valuable information and educational resources.
Showcasing breathtaking artwork by Greening The eARTh and I Made This, who create stunning installations using only found materials such as discarded plastic bottles and driftwood.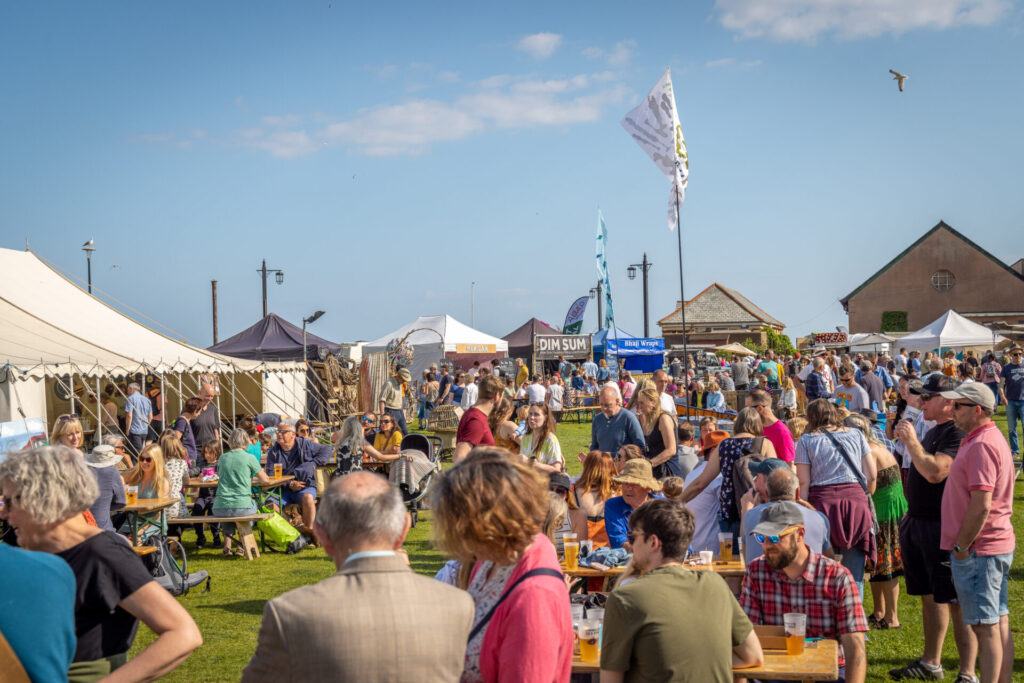 Sustainable Practices:
Sidmouth Sea Fest strives to utilize digital communication channels whenever possible to promote the event and engage with attendees. However, they also recognize the importance of inclusivity and ensure that everyone can access the necessary information. Their sustainable practices include:
Mindful use of materials, minimizing plastic and paper waste in communication materials.
Thoughtfully designed signage using eco-friendly alternatives like wooden painted signs, reducing the use of non-recyclable plastics.
Providing reusable cups with Sea Fest logos and encouraging attendees to bring their own, reducing the need for single-use plastic cups.
Bar stocks drinks in cans, which can be more easily recycled compared to plastic bottles.
Establishing dedicated recycling areas throughout the festival and employing a team of volunteers to ensure proper waste sorting.
Inclusive and Holistic Experience:
Sidmouth Sea Fest aims to provide an inclusive and holistic experience for all attendees. Some key aspects of the event include:
Showcasing a diverse range of performers, both emerging talents and experienced artists, to create a vibrant and multigenerational platform.
Conducting outreach workshops at Sidmouth schools ahead of the festival, enabling young people to create artwork that becomes part of the festival's site.
Offering free pitches for charities, local groups and organizations to showcase their community work and initiatives including biodiversity, science, sea sports and crafts.
Prioritizing positive mental health and wellbeing by incorporating activities such as gentle yoga, Bicycle Ballet and discussions facilitated by the Sid Valley Wellbeing & Health Action Team.
Creating a welcoming environment that fosters creativity, mindfulness and exploration, with activities like the Driftwood Worry Tree.
Enjoy Sidmouth Sea Fest and be part of a vibrant community festival that celebrates our connection to the sea and inspires sustainable actions. Experience the joy of coming together, exploring creative exhibits, and participating in activities that nurture the environment. Together, we can make a positive impact on our marine and coastal ecosystems. Mark your calendars and get ready for an unforgettable day!
Save the Dates for 2024: Friday Night Sea Fest Fundraiser 17th May and Sea Fest Saturday 18th May