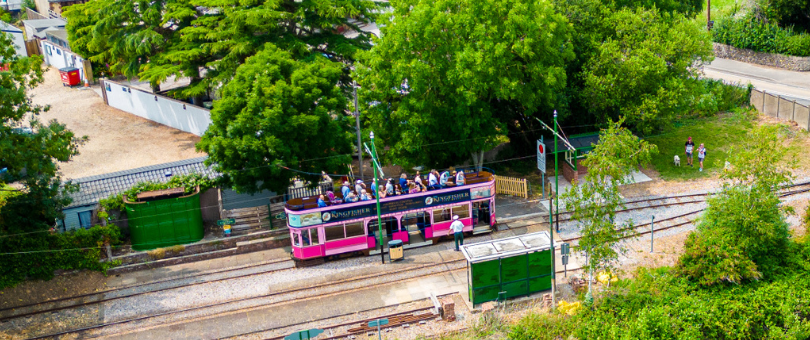 Travelling through three miles of unspoilt countryside along the picturesque Axe Valley, Seaton Tramway has become a family day-out staple in East Devon, carrying over 100,000 visitors each year. Trams operate between Seaton and nearby Colyford and Colyton, following the River Axe estuary through two nature reserves.
Everyone is welcome, with the friendly team committed to providing an experience for all, with excellent accessibility features. Running on overhead lines, the trams don't use fossil fuels either, so emit far less pollutants than other forms of transport, making it a truly green day out.
Accessibility efforts
With support from the Heritage Lottery Fund, Seaton Tramway can tell the fascinating story of the Tramway and celebrate the nature and wildlife of the Axe Valley, engaging with a wide range of visitors – from schools and colleges, to families, to those with dementia or autism. Additionally, the team of staff and volunteers undergo frequent training sessions, including Dementia Awareness, Disability Awareness, Dear Awareness, Autism training, Carer Friendly training and more.
The Quiet Tram
Perfect for adults and children with additional needs who find noise and crowds challenging. The Quiet Tram is a special monthly out-of-hours tram ride designed to enable those with neurodiverse conditions (including autism and other sensory processing difficulties) to enjoy the Tramway away from the hustle and bustle of the general public.
The tram begins at Seaton Station, travelling to Colyton with reduced lighting and minimal announcements, plus no need to join lengthy queues. All departures are supported by Seaton Tramway's experienced, autism-aware Learning and Activity Team.
The Memory Tram
Seaton Tramway's monthly Memory Tram offers people with dementia, and their carers, the chance to enjoy a tram ride to Colyton, where they'll savour refreshments and delight at activities in the Garden Room. Supported by Age UK Devon, each session has a different theme and includes plenty of opportunity to socialise, relax, and reminisce about bygone times.
The Wetlands Explorer
Another dementia supportive activity is the Wetlands Explorer, a free event that takes passengers to explore the beautiful nature reserve, and includes refreshments.
Other accessibility initiatives
Those who are deaf or hard of hearing can request a BSL tour video from Seaton Tramway, of a large print or easy read guide.
Accessible low floor trams operate up to three times per hour from Seaton and Colyton. Accessible trams can fit a mobility scooter or two standard-size wheelchairs per tram.
A standard single-child pushchair can be folded and stored on the back of a tram during travel or stored open in an accessible bay if it is not in use. Pushchairs can also be stored and supervised at Seaton Station.
Seaton Tramway is also a member of Carer Friendly Devon. On select dates in the year, any registered carer can travel free when not 'caring'. Carers always travel for free when they are caring for someone.
Environmental advantages
Reusing the former British Railways track between Seaton and Colyton, and a tram system already established along the coast in Eastbourne, Seaton Tramways can truly lay claim as an environmentally friendly attraction. It originally ran on battery electric power, and it was during 1973 that overhead wire and fittings were put in place, with the first tram powered from the overhead running in the September of that year.
By using electricity instead of fossil fuels, trams emit less pollutants and are effective in reducing micro dusts. A guilt-free way of exploring the beautiful East Devon countryside!