Oakdown: Devon's Award-Winning Holiday Park
Nestled amidst the picturesque meadowland of East Devon, Oakdown Holiday Park offers a serene retreat where guests can unwind and rejuvenate. With a wide array of luxury holiday homes, camping pitches, and glamping units, this family-run park has been a cherished destination for nearly 50 years. It prides itself on providing exceptional five-star facilities while demonstrating a steadfast commitment to social and environmental sustainability.
Commitment to Sustainability and Promoting Sustainable Visitor Behaviour
At family-run Oakdown, the team continuously seeks ways to enhance their practices and raise awareness of environmental issues. Their efforts focus on supporting the local community and preserving the pristine beauty of East Devon for generations to come. Their key sustainability initiatives include:
Utilizing low-energy bulbs and implementing motion sensor-controlled outdoor lighting.
Harnessing the power of solar panels to reduce reliance on conventional energy sources.
Offering eco-friendly linen in their Leisure Lodges, promoting responsible resource consumption.
Incorporating thermostatically controlled heating systems and energy-efficient hand dryers throughout the park.
Conducting daily checks on water taps and pipes, along with providing signage to encourage guests to report any leaks.
Promoting water conservation through initiatives such as small shower heads, dual-flush toilet cisterns, and air-assisted self-closing shower valves.
Hot water is supplied by eco-instantaneous boilers, and grey water is treated through the unique "Oakdown Victorian Reed Bed" for disposal and filtration.
Collecting rainwater in large tanks for watering flower beds, minimizing water usage.
Establishing dedicated recycling areas throughout the park, complete with clear signage.
Prioritizing the use of environmentally friendly products whenever possible.
Preserving the Landscape and Environment
Oakdown Holiday Park is situated within an area of outstanding natural beauty and preserving the integrity of the surrounding landscape is of paramount importance. To protect and enhance the environment, the park undertakes the following measures:
Safeguarding native species and nurturing trees and flowers through an environmental planting plan that sustains plant life and encourages the growth of new species.
Providing bird boxes, feeding tables, and handmade homes for insects, fostering biodiversity.
Repurposing tree prunings by chipping them and utilizing the chips throughout the park, minimizing the need for chemical weed control.
Recycling grass cuttings by utilizing them on the park owner's farm, ensuring a sustainable approach to land management.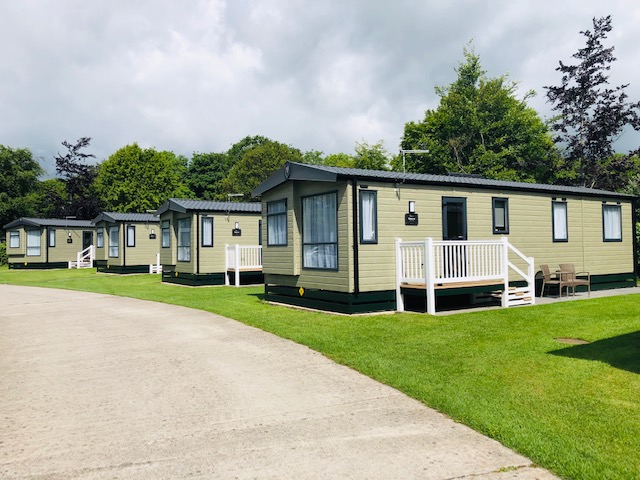 Experience the unparalleled beauty and sustainable luxury of Oakdown Holiday Park. Immerse yourself in the tranquil surroundings, embrace the range of exceptional accommodations, and take part in responsible tourism that harmoniously integrates with the natural environment. Whether you seek a family adventure or a peaceful retreat, you can be assured of an unforgettable experience for all. Plan your visit today and create lasting memories.